Inventor 2019 - New Hole and Project File Options

I've just taken my first look through the new features in Inventor 2019.  My favourite so far are all the changes in iLogic.  These changes will fundamentally change the way clients manage their data with iLogic ... I'll detail these in a future post (as I want to do it justice!).
For now let me tell you about a small but helpful new feature I found.  I was moving some data around on my machine and thought I'd best check that the Inventor Project file locations had updated correctly.  Whilst checking them I found a new option called Presets:

What was this new option?  First stop was the help documentation; if you've not used it,  its generally very good and gives enough info to get you going.  Here is the extraction from the document: 
Presets
Specifies the default location for the Presets.xml file. The Presets file maintains the parameter values for features accessed with the Property Panel. Enter the path to the files or click Browse to search for and select the path.
Note: In the project, you can override the default location of the Presets file. Click File 

Manage

 Projects. See the location in the Project File Editor, Folder Options section.
Not the help I was hoping for.  After some digging in the what's new documents I found that it actually refers to some new functionality in the hole command.
Inventor 2019 has had some nice changes to the hole feature.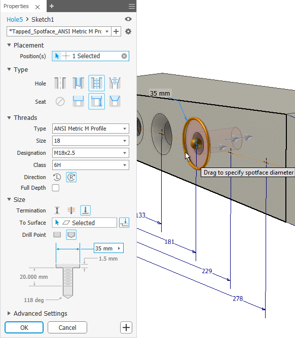 First of all the new dialogue looks fresher and can be docked with other browser windows.  I've found that a quick couple of minutes playing was all that was needed and I was using it as well as the old design.
When placing the hole it intuitively knows what sort of placement you want. which can be changed if needed by just reselecting any element.
The rest of the options are mainly the same through the utility.  All the details except one I found were detailed in the help:  https://help.autodesk.com/view/INVNTOR/2019/ENU/?guid=GUID-2980BCC5-D9FE-4152-A391-7B1A0B80634A
| | |
| --- | --- |
| Faster | Streamlined workflow reduces clicks, mouse movement, and context switching thereby significantly increasing speed and productivity. Additional performance improvements are made by loading thread and clearance data. |
| Smarter | We have simplified the placement selection types. You no longer need to pick which one you want. It is inferred from your interactions. |
| Robust | You can add more than one hole without first creating a sketch. |
| Flexible | Rapid linear offset dimensions to position a hole, as well as concentric constraints, the command creates the underlying sketch. |
| Seamless workflow | Move between hole definition and sketch to add or modify properties and switch back |

What you need when you need it
In-context dimensions replace the Mini Toolbar to allow for direct access to parameters when interacting with your model.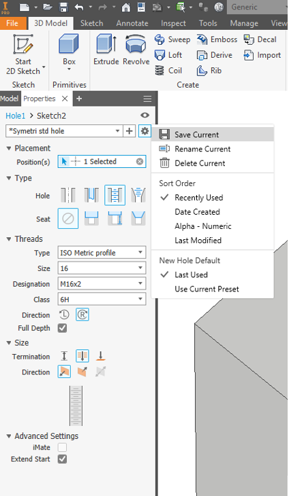 The new functionality documentation that I could find didn't seem to cover the new preset option in the project file.  Hole presets allow you to set up a hole with all the sizes, threads and options you want and save the values as a template for future use.  These templates are named and saved in the presets folder defined in the application options or via the project file. 
Note: For CAD administrators it would be a good idea to alter their project file to give a common location for company standard preset hole templates.  
This is not a new concept in Inventor, the bolted connection command already had the ability to define templates for fixings however this isn't centrally controlled like the new hole presets option; a much nicer method I'm sure you will agree.  We also have the ability to define a common sketched symbols resource folder that is globally available to users, a feature that came in a few releases back.  This can be set in application options but not controlled by the project file currently (maybe one for the ideas station).  As you can see more and more of these areas of the product that can be shared and managed globally by users, are making their way into Inventor ... This should make it easier, each release, for the CAD administrators / managers to standardise the designs in their company.
For more info of what's new in the 2019 products either get in touch, watch this blog or book yourself on one of our upcoming update training courses.
Blogi

Autodesk Flex tarjoaa joustavuutta yrityksille ja käyttäjille Autodesk-lisenssien satunnaiseen käyttöön.
Lue lisää
Blogi

Lue blogi ja katso videot, kuinka Autodesk Revit:lle kehitetty lisäosa Naviate Architecture auttaa mallin laadunvarmistuksessa.
Lue lisää
Blogi

Blogissa esittelemme vielä pari tavallisia ongelmaa, joihin Naviate Architecturen Filter elements- ja Publish-toiminnot tarjoavat ratkaisun.
Lue lisää