What is the value of Autodesk Product Design & Manufacturing Collection?

Factory Utilities
Have you made the jump/switch to Autodesk Product Design & Manufacturing Collection or you are planning to do so! Here is a blog that can help you realise the value of your decision!
Here are the new additions to the Autodesk Product Design & Manufacturing Collection:
Factory Utilities
Fusion 360
HSM
Nastran In-CAD
Factory Utilities is our focus in this blog, but I will try to cover other subjects in the future so watch this space.
As Autodesk have branded this add-on to Autodesk Inventor, AutoCAD and Navisworks as Factory it has given users the impression that it can only be used for Factories and that is far from the truth. Although it's main purpose is to optimise Factories it can be used in many different industries.
Factory has been around for the last 4-5 years and some users have dabbled in its usage but may have never used it to its full potential. It has grown over the years to become one of the most valuable and cost effect design tools in the PD&MC.
Let's have a look at what Factory Utilities looks like to identify its benefits.
VIDEO – INTRODUCTION TO FACTORY UTILITIES 
The Factory workflow allows you to take advantage of a specific set of tools throughout various applications to combine disciplines. As Mechanical Engineering and Construction veer towards each other the Factory Workflow can serve as a design platform that will allow Mechanical, Architectural and Construction data, decisions and projects to blend into one whole collaboration tool kit.
With Factory Utilities installed a user will be able to utilise the following workflow: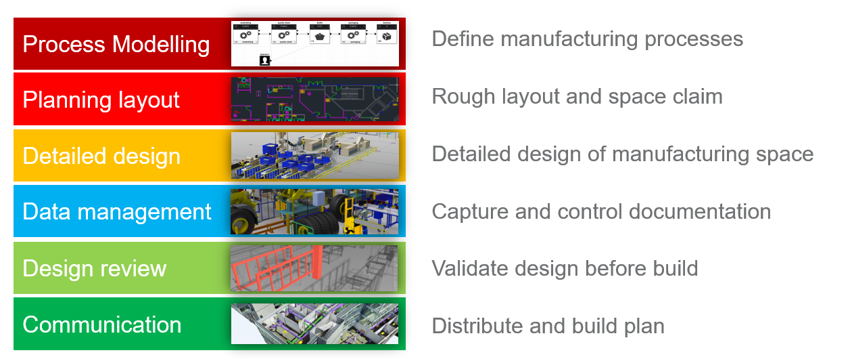 Installing Factory Utilities must be done in a certain way, see blog – How to install and set-up Factory Utilities.
With all aspects installed users will gain access to Factory tools integrated within Autodesk Inventor, Autodesk AutoCAD, Autodesk Navisworks and Autodesk Vault Professional. These tools provide progression through the factory workflow with abilities to sync 2D Autodesk AutoCAD layouts (existing or new) with Autodesk Inventor producing 3D layouts. These layouts can be modified, re-designed and documented with association between all the applications mentioned above.
The workflow to create layouts can be started in various applications. Most users will have a knowledge of Autodesk AutoCAD, or have an existing 2D layout to start from. One of the main benefits of using Factory Utilities is the ability to install and use Process Analysis.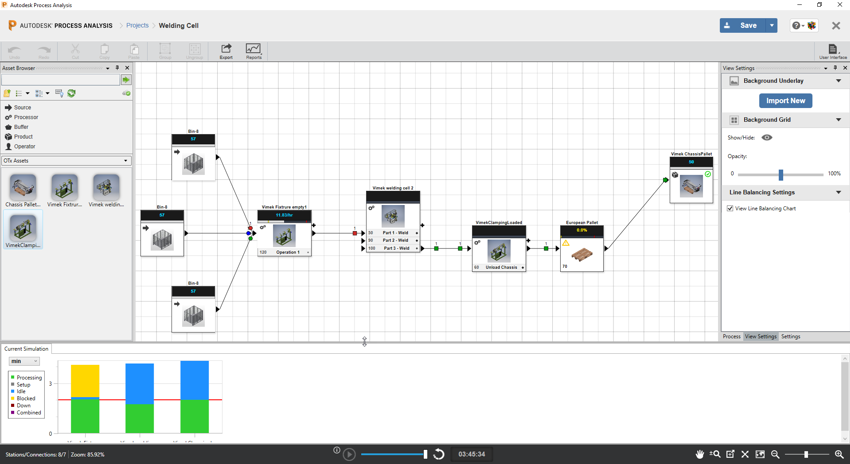 Process Analysis is a cloud based application which is now only available to users that have access to the PD&MC. This application can be the first stage to optimise any process. This process can be factory based or not. Process analysis will give a fast and valuable result showing bottlenecks in your process. It gives tools to simulate and gather information about your process without any 2D or 3D data.  One of the main benefits of this tool is the ability to export to DWG format. Process Analysis has integration with assets. Assets will be discussed in more detail in another blog.
Process Analysis can be utilised at any stage of the layout design/management. If another process is analysed and implemented it can be started here and built by a non-CAD user. The non-CAD user can export the DWG format to make available to CAD users.
Factory Utilities installs an asset browser with access to system asset libraries, including the ability to create custom libraries. Assets can be created and regarded with similar importance as 2D blocks. 2D blocks are only show in 2 dimensions, usually from a top view but can also be dynamic. Factory Assets are viewable in 3D. Having this capability is one of the main reasons for using Factory Utilities. For years we have used 2D layouts not actually seeing the full design. For years 2D designs have caused expensive problems onsite because visibility in 2D is just not enough design information. Clash detection is a major part of this digital process.
These assets are intelligently connected within layouts so changes are reflected in all instances within a design (if required) e.g. if a conveyor height or width parameter changes the change will reflect on any other conveyor connected in the line.
Assets are used to build assembly layouts. These layouts can be a combination of existing assemblies, assets and 2D DWG underlay data. Layouts can span over multiple levels, with copies of grouped assets or inserted models.
Layouts can also be produced in collaboration with point cloud data. This point cloud data can be inserted in one large data file or manipulated in Autodesk Recap to narrow down specific areas of interest.
The 3D layout can be synced with Autodesk Navisworks directly in the Autodesk Inventor application. Autodesk Navisworks is a collaboration and project management tool that allows users to take advantage of bringing together mechanical, architectural and construction data in one application. This collaboration data can be shared with non-CAD users that have no access to Autodesk products.
The Factory workflow brings together all the above data. It truly is one on the most exciting and valuable tools you now have or will have in your design tool kit when you subscribe to the PD&MC. For more details about this fantastic design workflow please feel free to contact us, we provide support, training and consultancy for Factory Utilities.
Blogi

Autodesk Flex tarjoaa joustavuutta yrityksille ja käyttäjille Autodesk-lisenssien satunnaiseen käyttöön.
Lue lisää
Blogi

Lue blogi ja katso videot, kuinka Autodesk Revit:lle kehitetty lisäosa Naviate Architecture auttaa mallin laadunvarmistuksessa.
Lue lisää
Blogi

Blogissa esittelemme vielä pari tavallisia ongelmaa, joihin Naviate Architecturen Filter elements- ja Publish-toiminnot tarjoavat ratkaisun.
Lue lisää